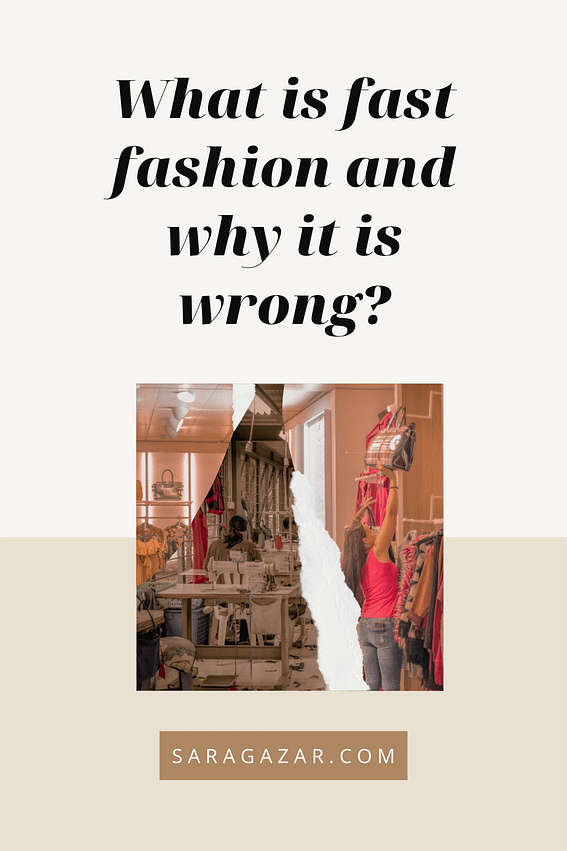 Aaahhh … Fashion, dresses, jeans, jackets, shoes! Who would say that it is like a horror movie based on real events for thousands of people and for our planet?
Okay, let me explain myself. We all want to start being more sustainable, aren't we? But what if I told you that there is something that not many of us take into account yet? You stop using a straw, you carry your bottle and bag everywhere, you have started to give up the meat, you turn off all the lights, and you shower with little water… But you go shopping every 2 weeks. "So? What does shopping have to do with it?" Well, in this article you will read what it has to do with it. And why you should ask yourself if you really need that new object in your closet or not.
What is fast fashion?
Okay, to begin with, we must know what are clothes that we wear every day. Fast fashion is the term we use today to describe extremely fast-moving styles. Having up to 52 seasons a year!
Previously, brands and retailers launched 4 new seasons annually in order to combine them with the traditional seasons of the year. However, now there are brands that come to launch new seasons every 7 days. Something quite excessive …
This has caused an overproduction of clothing causing the rise of fast fashion culture. This puts the impulse to buy and the number of clothes in our closets over the quality and purpose that it has.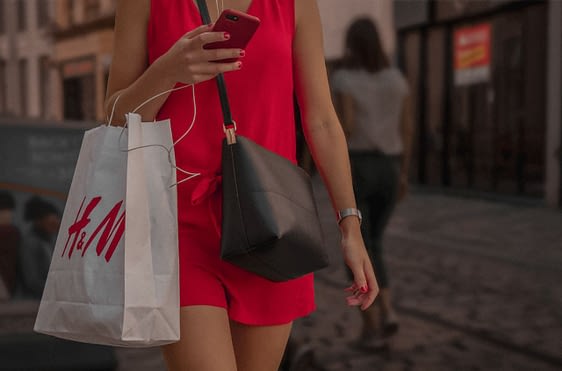 When did fast fashion start?
There are the first traces of fast fashion in the early 1990s, when Zara opened in New York. This prompted the New York Times to use the words "fast fashion" to describe the new rapid production business model that Zara was beginning to implement.
After this, many other brands and companies started to do the same. Like Forever21, Gap, H&M, to name a few. They began producing garments in record time which was aligned with the beginning of online shopping (according to clothing refers).
And that's how fast fashion began to produce thousands of designs a year and millions of tons of textile waste. Coming to see clothing as a disposable; Use and throw. Not such a happy ending, right?
What is wrong with fast fashion?
Well, where do we start? There are so many things in the fast fashion industry that are wrong. However, the fact that we accept it and the problems it causes go unnoticed is perhaps the main problem that carries with it the rest of the associated problems in the industry.
At some point, we began to accept that our garments did not need to be made of high-quality materials, that the quality could be mediocre, and we even forgot (or never learned) how to check the quality of our garments and how to take care of them.
At some point, we stopped worrying about our garments, their quality, the ones we already had and we began to worry about the quantity we had (even if we didn't use even half of them).
Although, well, it is not our fault totally. The industry made us believe that it was better to have a lot of stuff, that quality does not need to be guaranteed and that we do not need to know where our clothes come from, or how they are manufactured.
Problems with fast fashion
Now, although there are many problems related to fast fashion, these are the ones we should focus on more:
Textile waste: The amount that companies waste both in production and the waste produced by unsold clothing in stores (since much of it is simply thrown away) is frustrating. In 2015 alone the fast fashion industry produced 92 million tons of waste.
Labor exploitation: One of the ugliest faces of fast fashion. Working conditions are deplorable where clothing is produced. With very low salaries, women are often abused and raped, as are children forced to work there.
Carbon emission: Carbon emissions related to the production and transport of clothing are 8-10% of the total worldwide.
Water use and pollution: The amount of water for the production of a kilo of cotton requires around 2,700 liters of water and approximately between 9 and 11 thousand for a pair of jeans.
Public Health Risks: The use of chemical dyes and other production hazards affect the health of the community and textile workers, from air and water quality to physical exposure.
What is the impact of fast fashion on the environment?
Today the fast fashion industry produces twice as much clothing as it did in the 2000s according Mckinsey research and contributes more than 8% of greenhouse gas emissions. The global fashion industry is also estimated to be a major contributor to microplastic pollution affecting our oceans and marine life, according to the United Nations.
Approximately 60% of the clothing produced each year is estimated to end up in landfills or incinerated within just one year of being produced.
While the environmental impacts of our global fashion industry are still difficult to track given the complex use of water, chemicals, transportation, labor, materials, etc., we are fortunately beginning to have Environmental Impact Assessment (EIA) tools. ) that can help us better understand the social and environmental impact of textile manufacturing companies.
Examples of fast fashion brands:
There are tons of fast fashion brands out there, but these are some of the biggest and most renowned. They have also been singled out for their unethical work practices, "greenwashing", impact on the environment and excessive waste. These are just some of them:
H & M
J.Crew and Madewell
Gap and Old Navy
Zara
Forever 21
Primark
Romwe
Shein
Bershka
Stradivarius
Nasty Gal
Missguided
Asos
Anthropologie
Urban Outfitters
Free People
And while some fast-fashion brands have been trying to make an effort to be more sustainable, such as starting to incorporate sustainable fabrics, recycled materials, or "conscious" lines, they still have a long way to go before they can truly be considered sustainable.
Can fast fashion be sustainable?
While some believe that the actions that some of the aforementioned brands are implementing may only be greenwashing (which in many cases really is), I believe that they show the power that consumers have even against the worst sellers of fast fashion (or from any other industry).
What we should not allow is that they start to launch a couple of "sustainable lines" and that they continue doing the same garbage with the rest of their garments. Rather, they need to redefine the way they do business, the impact they generate on the environment, and the waste they produce.
These types of fast fashion brands have the power to reach millions of people globally. And, if they really decide to take responsibility for their business in order to make it more environmentally friendly, impact the lives of millions of people and, in general, the entire world.
But if they don't decide to start making these kinds of changes, then hopefully we will see them go out of business in the next few years. Because many people and the planet are realizing that we cannot continue as we have done in the last 100 years and that this type of situation, specifically speaking of the fashion industry, can no longer take place as in recent years. 30 years.
What can we do to help?
It's a bit hard not to find us or to avoid fast fashion brands altogether. However, these are some of the actions that you can start to apply:
– Renew
The best and most sustainable clothing you can buy is the one you already have! It doesn't matter if you bought it from a fast fashion supplier or from a slow and sustainable fashion supplier, the damage it could cause has already been done and the damage it can cause later is up to you. So do your best to give it another life and use it in any way you can think of.
– Second-hand purchase
We all love to adapt to trends. And a great way to do it without causing more waste is by buying second-hand (or checking your mom's closet). This not only helps small merchants, but also the planet.
Personally, this option is one of my favorites. I have already bought in several Instagram bazaars and I have stolen several clothes that my mother no longer used. I even opened my own bazaar (@2love_bazar) together with my best friend to do my bit for circular fashion.
– Purchase in small and sustainable businesses
The new sustainable fashion garments are still usually a little more expensive or equal to those of fast fashion. However, these are usually of better quality, so they will last you many years longer. Not to mention, you help the environment, the lives of others, and make a better change in the fashion industry by buying from small but sustainable brands.
Conclusion
There are so many problems related to fast fashion, but, at the end of the day, it's our decision as consumers to change them. Small actions like buying second-hand are what help to change the world little by little. So don't underestimate the fact of not buying a certain shirt from a fast-fashion brand or store. The fact that you bought it in a small sustainable business with that you already made a big change, believe me.
Will you start to buy more sustainable? What sustainable brands or bazaars do you know? Leave it in the comments ↓
I hope you liked this article and it was useful. If so, remember to pin it for later and share it on your social media so more people know the impact that this industry and what to do about it.
Have a nice day, month, and life :))
Bibliography
· https://www.esterxicota.com/impactos-moda-agua/
· https://ethish.com/why-is-fast-fashion-bad/
· https://www.almostzerowaste.com/fast-fashion-disadvantages/
· https://pebblemag.com/magazine/living/whats-wrong-with-fast-fashion
· https://healthyhumanlife.com/blogs/news/what-is-fast-fashion
· https://www.mckinsey.com/industries/retail/our-insights/faster-fashion-how-to-shorten-the-apparel-calendar
·https://www.mckinsey.com/~/media/mckinsey/industries/retail/our%20insights/the%20state%20of%20fashion%202020%20navigating%20uncertainty/the-state-of-fashion-2020-final.ashx
· https://www.mckinsey.com/business-functions/sustainability/our-insights/style-thats-sustainable-a-new-fast-fashion-formula#