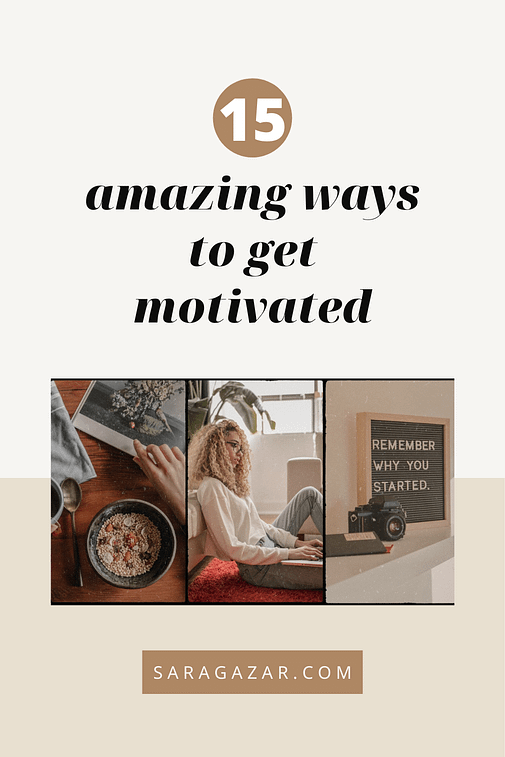 Sometimes it is so incredibly easy to find ways to get motivated to do what we have or want to do. There are days when you feel so good, you find a lot of ways to get motivated; You jump out of bed and start doing it. You feel like you can take over the world.
But there are other days when … You just feel like you can't. You get under the covers, you roll up and wait until the day is over to "try it tomorrow", a promise that we have all made and many (or most) times we do not fulfill, right?
And, to be honest, with everything that is happening in the world it becomes even more difficult to start doing the things that we know we have to do.
There are some things that we can come across in our day-to-day in which the lack of motivation that we may have can be seen reflected. For example when you need to wake up early, but for what? There are really no schedule. Eat healthier? Mmmm… But there are those chips! Or when do you want to work on a new project? What if it doesn't work? No encouragement anyway … And the list could go on and on.
It is not bad not to have motivation from time to time, listen to your body, and relax when necessary, when your body asks you to. Likewise, he learns to identify when that lack of motivation may be something more serious and goes to psychological help so that it cannot turn into depression.
However, for those days when you have a medium motivation; you want to do things, but you feel that nothing else is given, I created this list. Give it a check and go!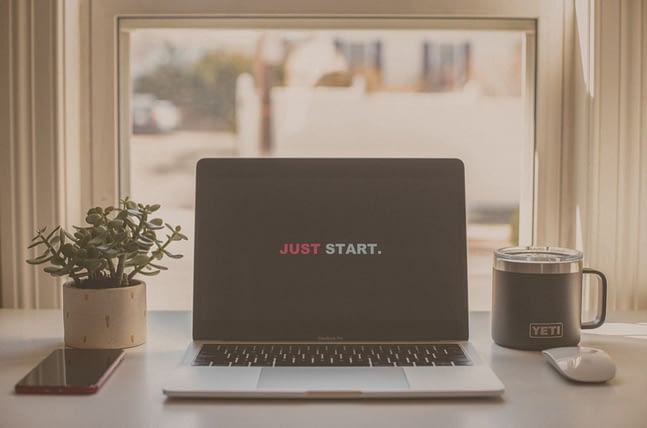 Just start.
Yup, like this, just do it. Get started and the motivation will come.
My mantra this year is "the sooner you do, the sooner you can". And that's how it works, you have to do it before your brain conspires against you and won't let you do it. Something that may sound both easy and difficult, but I swear it works.
You can (or should) start small anyway. It doesn't matter what you want; Get changed, tie your shoelaces, write the first sentence, just start. A small action can start great things.
Set small goals.
Related to the above, you can set small goals that begin to grow until you reach your big goals. Something like an avalanche or compound interest.
Do you want to get up at 6 am? Cool! Start by getting up 10, 20, 30, or 60 minutes earlier each day. When you least realize it, you will go from getting up at 12 pm to getting up at 6 am
Do you want to run 10 km? Perfect! Start by stretching and running an old woman down the block, then a mile, then three, and before you know it, six will be super easy.
The goal is to move on and on. You don't need to make totally drastic changes overnight, as doing so may even make you more discouraged 🙁
Create a bucket list
Another great way to motivate yourself is with a bucket list. A bucket list is one in which you can write down all those goals, objectives, and dreams that you have in your life. And what this will do is remind you and know that this is one of the things that you have to do yes or yes. Therefore, you have to complete other small flaws to reach that great goal.
Measure your progress
I recently saw a post where they mention an interview where Rebel Wilson said that he needed to have a tangible goal to see her progress on her way to lose weight and lead a healthier life, in her case, it was 75kg.
And the fact is that having a measure, something tangible in which you can see your progress reflected will give you an incredible boost.
So make sure to always mark the calendar, put a checkmark, measure yourself, take pictures or do whatever it takes to see your progress reflected and motivate yourself to keep going.
P.S. Don't get obsessed with this. It is a way of seeing your progress reflected, but it should not be a reason for obsession or discouragement …
Repeat positive affirmations
I am strong, I am productive, I am persistent. They are just some of the ones you can try.
Affirmations are something that has helped me a lot to motivate myself and manifest what I want, I am sure that they will be just as useful for you.
You can still find affirmations and small reminders daily on my Instagram and TikTok 🙂
[In this post I mention X affirmations and how to use them]
Listen to music or podcasts that motivate you.
What better than to start the day with a song that makes you a good song that makes you happy? Well, according to various books and studies, we procrastinate more when we are in a bad mood. So playing music, dancing, laughing, and raising your vibes can really help you improve not only your productivity but also your self-esteem.
Here is my Spotify playlist and here the YouTube one.
Reduce distractions
Something difficult today with our cell phone in our pocket or hand all the time, right? Well, I understand you, but now we can use various pre-installed tools (like Google's Wellness) or apps on our phones or computers (like ActionDash) to be able to block those distractions on our mobiles if that helps us. Or counting time can also help. There are several options for your cell phone to help you and not be against you.
You can still use methods like the Pomodoro to focus on one task at a time.
Don't stop your streak
Do you see how Duolingo has a streak of the days you use their app and when you don't use it, you break that streak? Well, you can do the same in any goal or whatever you want to do. You can use apps like Tick tick or even notion to mark the days that you do what you want. There are really many applications that can help you track your goals.
Don't push yourself too much for this, it is impossible to have a 100% streak because our days may vary or unforeseen events may arise. So be kind to yourself and just try to do your best.
Create routines
In the case of motivation, you can use whole routines or small actions that activate your brain and make it say "time to work." For example, make your bed when you wake up, and then read a book. Say affirmations in front of the mirror after washing your face. Listen to a good podcast while having your morning coffee.
Find what helps you to give you that boost of energy you need to start.
Remember your why
When we want to achieve something, having a why is quite useful. It is something like a formula:
Sell ​​more (why) = Organize and carry out the promotion campaign (Action you need to do)
Improve my health and get in shape = Do 30 min exercise + Plan my meals
How Simon Sinek mentions in the book begins with why: "People don't buy WHAT you do, they buy WHY you do it." Likewise, you must buy yourself the idea of ​​why you are doing what you are doing to achieve your goal.
Do it as a couple (or group)
It can be with your brother, girlfriend, mom, dad, friends or whoever you like, the thing here is that you can help each other with that goal in common and make it easier and more fun.
For example, if they want to go for a run, they will feel more like going because they will not want to leave their friend abandoned. In addition to that when they arrive they can talk while they heat up and then while they stretch.
Or how about saving to go on a trip together? They will have to put their part yes or yes. Not to mention, they will have an incredible time together.
Celebrate your victories
It doesn't matter how big or small you think they are, celebrate them! You did your best to get there, right? That's cause for celebration, you deserve it.
This can help you stick with your goals as well. You can give yourself something to improve more. For example, when you have had a streak of 45 days studying German, you will pay yourself a lesson to learn more. Or when you have been exercising for 5 weeks, you will buy some new tennis shoes.
A two for one, you will feel more motivated to continue and it will help you to progress more.
See what's come into your future
As I told you in point nine, having a why will help you a lot. Seeing beyond what you can now distinguish on your way to achieving what you want will help you make what now lives in your thoughts come true. Visualization and manifestation are very powerful so use them to your advantage.
Let's say you want to go on a trip and for that, you have to work and save. Well, every time you don't want to work, or you want to spend your savings on something you really don't want or need, visualize yourself on your dream trip so that that way you don't end up throwing away all the effort that you had already made in the trash and concluding your goal. sooner than you think.
Make a mix
By this, I mean that you don't always have to do the same thing. Yes, routines are great and can help you a lot to create habits, however, they can still get boring. So if you ever don't want to go for a run, start dancing. Or if you don't want to work at your desk, do it on your couch. Even do it a little later or later.
The point of this is that you make your brain say "what's up, what's going on?" and go back to work.
Realize that you are going to fail
Kinda tough to process, isn't it? Sometimes when we break our streak we feel that we have failed and that we will no longer be able to achieve it. We get demotivated. But it is totally normal! As I mentioned before, it is almost impossible that we will always achieve it everyday.
You can even set from the beginning a maximum of the days that you can allow yourself to "fail" in that day's task. Learn not to obsess over it, just get back to it as soon as you can. You can.
Conclusion
Sometimes it is difficult to motivate ourselves, but it is enough to make small changes that can help us give ourselves that boost we need.
Remember why you do things, what you will get, and the streak you want to keep. Sing, dance, read, have a coffee or sunlight, do whatever gives you the energy to continue.
Tell me what do you do to motivate yourself every day? Leave it in the comments ↓
If you liked this post and it was useful, remember to share it on your social networks and/or pin it on Pinterest
I wish you a very happy day, month, and life. And of course, that you meet all your goals 🙂