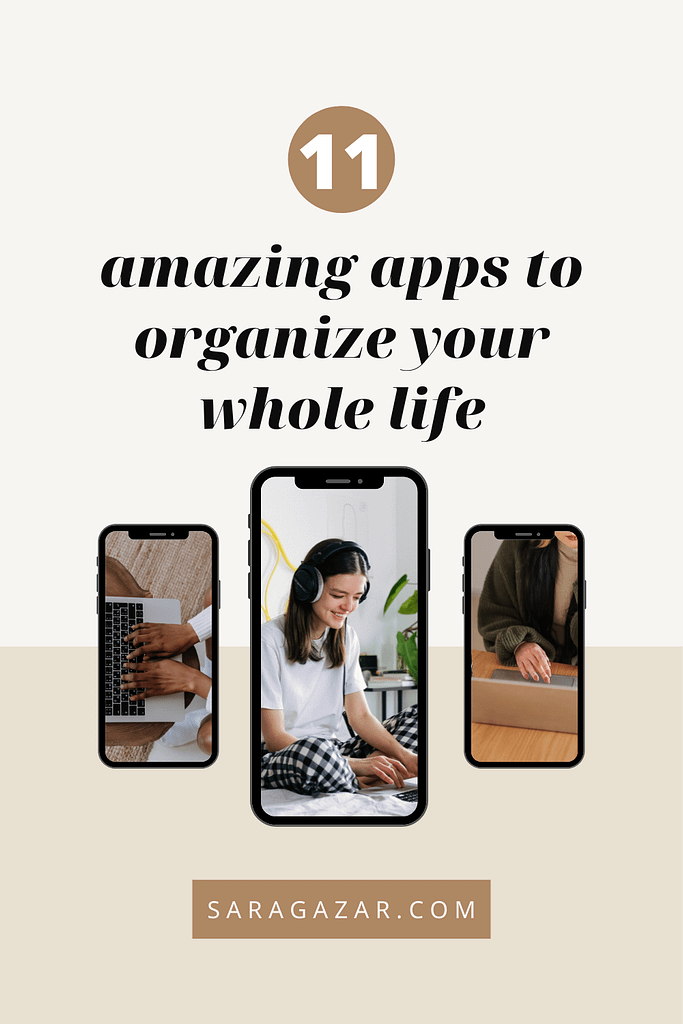 You have been wanting to organize your time, day (and life in general maybe), but your cell phone always ends up being a distraction and when you least realize it the day is over and you don't know what happened over time … Well, our cell phone (actually a couple of apps hehe) can also help us organize ourselves and not lose motivation.
These apps have helped me a lot to put my life a little more in order, organize my time and I hope that these apps to organize your life work for you as well.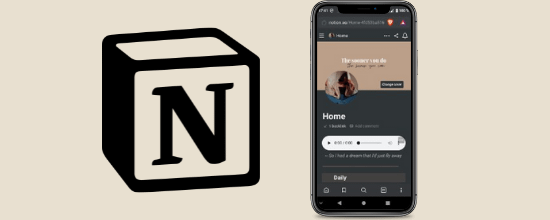 1. Notion – To plan everything
Available on: Android, ios, desktop
Plans: Personal ($ 0), Personal Pro ($ 4 per month), Team ($ 8 per member, per month)
Notion is one of my favorite apps. It literally serves to organize absolutely everything! Including some things the apps below are for.
Here you can organize yourself by spaces, pages, tables, lists, toggles, and more. Add photos, videos, files from your drive, playlists, audios, etc, etc.
It has become popular lately for the cool designs you can do on it. For me, it is like a digital bullet journal that you design once, and then you can forget about the design. Although this is also one of the reasons why it is not liked by everyone. However, you don't need to make such a wow design, that's not the main goal.
Still, it is super flexible and, although it may cost a bit at first, over time it becomes super practical.
I have really organized my whole life with this app/website hahaha. From homework and courses to goals and meals. You can download my beats template here or see my wow templates in the color you want here.
Some similar tools are: Trello, Asana.
Available: Android, ios, desktop
Plans: Free
This is a very useful tool that most of us already have installed on our cell phones, although you can also use it on your computer.
It can help you organize everything from your daily routine, events you have, habits you want to achieve, etc.
Previously it was very difficult for me to use it (even more than notion). However, I recommend that you optimize it on your computer since there you can even change the colors and everything else in a simpler way.
I think it's amazing because you can also add links to remember your virtual events. And, if you use notion, you can embed google calendar with notion.
Some similar tools are: Edo Agenda, TimeBlocks.
3. ActionDash – To help you see your cell phone less and not get distracted
Available on: Android
Plans: Free
If you spend a lot of time on your cell phone or social networks like me, and you want to start seeing it less and less, this is your app.
It helps you to know how much time you spend on your cell phone, put a time limit on the applications that you indicate, set "concentration hours" which is basically to block the applications you decide for a certain period of time, and so on.
It is especially useful to concentrate when you are doing homework, working, your morning or night routine and you do not want to be distracted or look at your mobile, or doing any other activity.
If you want to get into the habit of watching your cell phone for less time or a certain application, like Instagram, I really recommend this application. With her help, I have been able to reduce my time on the phone. Before, it was up to 15 hours a day! And now I go between 5 and 6. Although my goal is to get to 2 or 3.
Some similar tools are: YourHour, QualityTime, Forest.
4. TickTick – To develop habits and plans
Available on: Android, ios, desktop
Plans: Free, monthly ($ 2.74), yearly ($ 27.99)
Ticktick is an app that allows you to track your habits, use pomodoro, organize by folders, calendars, and more. It's like a great mix of google calendar, notion, and focus to-do.
I love that it has widgets and extensions that allow you to view and use it in a much simpler and more effective way.
Personally, I fell in love with its way of tracking habits. Having a widget and reminders makes it much easier for me to follow the habits that I am creating.
In addition to all this, they have a blog where they give you many suggestions for creating habits and more.
Some similar tools are: Microsoft To-Do, Feather
5. aTimeLogger – To track your time
Available on: Android, ios
Plans: Free, donations from $1.5
If you want to start tracking your time, I really recommend this one. It is the best I have found, at least on android. Since, although it is not web-formatted, it is very easy to use and works incredibly well.
If you are like me, and you like to use widgets, then this is for you. Most of the time tracking apps either don't have widgets or you have to pay to have them. But, at least for me, having a widget in front of me when I unlock my phone helps me remind myself what to do.
Not to mention, this one is super lightweight and super customizable. The icons can be put in the color you like or even change for the photo you want when you make a donation of whatever amount.
It also has very good reports and statics.
Some similar tools are: Toggl, Bosted, Time Meter
6. Google notes – For your ideas and everything
Available on: Android, ios, desktop
Plans: Free
If you want an app to make your notes and to-do lists, this is great. It is already installed on your phone surely so why not use it.
Here you can easily write anything that comes to your mind without having to be connected to the internet, you can complete your lists and even make drawings or written notes.
You can also use it on your computer and convert your notes into google docs files, which is very useful if you start writing things for your homework or work,
Some similar tools are: Google Tasks, Keep Notes, Color notes.
Available on: Android, ios, desktop
Plans: Free, $ 1.89
The pomodoro technique is very good, it helps you focus better and take breaks when you need to.
With focus to-do you can apply this technique, plus it gives you reports so you can see how many pomodoros you made each day.
Some similar tools are: TickTick, Foca, Goodtime, Pomodoro Timer
8. Google Drive – To organize your files
Available on: Android, ios, desktop
Plans: Free
If you've previously been using the program installed on your normal word laptop, well, this is the signal you've been waiting for. I love using all the google drive programs, from docs to sheets and slides. The fact that it is automatically saved and I can view it on any device has made it much easier for me.
So, if you want to start having more organization within all your documents, I definitely recommend you start using more of everything that google drive offers.
9. InnerHour – For your mental health
Available on: Android, ios, desktop
Plans: Free, $ 249mxn the first year, $ 629mxn after
This is one of the best mental health apps I have found. I think what I would add to it would be a meditation function. However, that's what apps like I meditate for (my favorite app to meditate)
It is a very good app that guides you a bit if you suffer from problems such as anxiety, depression, anger management, etc.
It has courses, activities, mood trackey, resources and a robot chat to help you.
Some similar tools are: Wysa, Dare, Moodfit, etc.
Available on: Android
Plans: Free
Okay, this is one of the applications that I have tried to control your expenses that I liked the most. It seems very simple to me and that it has everything integrated into it.
I usually keep track of what I spend or earn in notion. However, it can be a bit tricky. This is why this app is a great option, since it has everything integrated (in my opinion).
Some similar tools are: Wallet, Money Manager
11. Yazio – For your meals
Available on: Android, ios, desktop
Plans: Free,
Yazio has given me a lot of ideas for my meals. Honestly, I have not used it much to count calories, it is not something I like to do. However, it can help you find many meal ideas, plus I can plan them a little better within the application.
Some similar tools are: BetterMe
In conclution
There are many applications that can help us to have a little more order in our lives and be more productive. From focusing, helping you with your habits, your reminders, etc, etc. It is a matter of finding those that suit you, your needs, and tastes.
What applications do you use, or will you start using? Tell me in the comments 🙂
If this post was helpful, remember to share it on your social networks to help someone else organize their life. And pin it to watch later.
I wish you a very nice day, month and life.